Lee Witten
From Boy at the Stockyards and Train Station
to Long-Time Volunteer
Lover of Ogden returns to his roots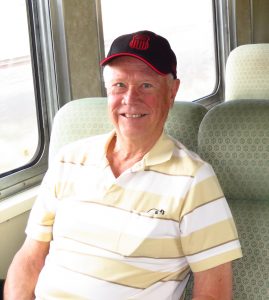 Lee Witten has always loved trains. The Union Station and Ogden Stockyards are are in his blood.
Lee Witten
Mention the word trains to Lee Witten and a great big smile steals across his face. Witten has been volunteering at the Union Station train museum in Ogden, Utah since 1997. His black Union Station vest is covered with placards of service and badges showing the many things he knows about the history of trains in the museum. But the retired school teacher's love and fascination with all things train began long before 1994. It started just about when he was born.
It only made sense to Lee Witten to volunteer at Ogden's Union Station after retiring as a beloved school teacher. After all, that space is where he grew up.
A Family Tradition
"My dad worked for the railroad. He was a conductor for the Union Pacific Railroad up here," he said of Ogden. He ran the train between Ogden and Green River. Witten spent his childhood roaming the rail and stockyards in Ogden. "I loved trains," Witten said with a laugh and a smile. He showed a picture of his mom holding him over a rail looking down at the train tracks in stockyards. Witten was born in 1941 when Ogden was at its boon – not only with the huge train crossroads, but also with the Ogden Stockyards with hundreds of heads of livestock coming in and out on those trains, but also with the American Packing and Provision Company (which later changed to Swift in 1949.) About the time Swift took over Witten and his family moved to Roy where he stayed until after he graduated from Weber College. After that, he moved to Hawaii where he taught school for 30 years until his retirement when he returned to his roots and started volunteering at the Union Station soon after. "I saw where they needed someone and I always had a fasciation and love for trains, so I thought I would like it, and obviously I did," he said from behind a desk filled with research papers and a working computer where he is working on a current project.
A Rich History
For Witten the history of the downtown area runs deep. Not only was his dad a train a conductor, but his great-great-uncle helped design the stockyards. Lester Whitlock was his name. Witten never knew his great-great uncle, but only heard the stories of his tireless work. "My family were all cattlemen. Some in the Uintah Basin of Utah and I think they had a natural bend toward it," Witten said. He thinks that his uncle's talents are what drove his grandmother's family to Ogden – that and their love of cattle. His maternal family settled in the area with the Mormon pioneers, but then scattered as cattlemen do, but they had a central focus of the Ogden area.
A Love for Animals
Witten loved looking at the animals. "I don't recall a lot, but I do remember being taken around (in the stockyards) and looking at the cows," he said with a grin.
Witten knows from his own life and from the research he has done that Ogden in the 1940s was a very bustling place. "Everyone shopped downtown and the downtown area was lovely and bustling," he said. When he left in 1964 he noticed things were dwindling a bit. "I don't know when the stockyards died down, but I suspect it was in the early 1960s when the trucking industry started taking over," he said.
The Railroad – The Secret to Ogden's Success
Witten credits the transcontinental railroad to Ogden's success during those years though. "Ogden was just a sleepy little town of about 2500 people," he said. "It brought in people from all over the world – all walks of life. A different flavor. It gave Ogden the culture that even Salt Lake didn't have," Witten said of the history. He noted that originally the city of Corinne wanted the train station to be in their town and it probably would have happened if Brigham Young wouldn't have stifled it, he said. Brigham Young had some interest with a project called Utah Northern that tied in with Montana's traffic, so he wanted the trains to meet in Ogden, so that is what happened and from there, a lot of history has been made.
Being that junction gave Ogden the chance to be a haven for the livestock because livestock could be brought in – not only from all parts of Utah – but Idaho as well. With that opportunity, it seemed only natural to have meat packing right there plus it was easy enough to haul refrigerated freight cars in, so the refrigeration industry had a great place to work and work well. "It was just a huge mecca for business," Witten said.
Witten loves to talk trains and their worth then and now – he sees it and he loves the transition Ogden is making even today. "We have still kept our Junction City and have that same flavor and diversity," he said as he looked out onto the bustling 25th Street from his office window, still smiling.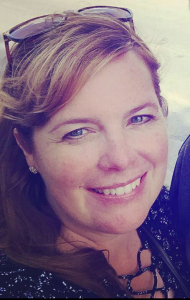 Rachel J. trotter
author
Rachel J. Trotter is a senior writer/editor at Evalogue.Life – Tell Your Story. She tells people's stories and shares hers to encourage others. She loves family storytelling. A graduate of Weber State University, she has had articles featured on LDSLiving.com and Mormon.org. She and her husband Mat have six children and live on the East Bench in Ogden, Utah.

tell your story
Evalogue.Life was hired to capture the history of the Ogden Union Stockyards and the old Swift meat packing plant, including oral history and other research. These vignettes were written by Evalogue.Life team members.