Mike Bachman
A Young Boy Learns the Value of Hard Work at the Stockyards
Ogden native learns about business from shoveling out animal pens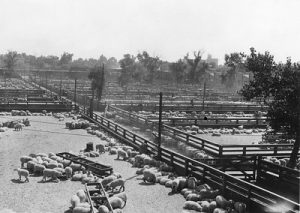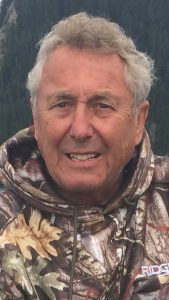 Mike Bachman was never afraid of hard work and when he saw an opportunity for "easy money" he took it.
Mike Bachman
Mike Bachman was always looking for ways to make an extra buck. From the time he was 8 years old and selling donuts door to door, he wanted to make something of his life and have all the niceties it had to offer. What he really had in mind was a pretty, sparkly car. When he was 8 years old, he told his mom he would have it and she told him, "Good luck."
Mike Bachman, a well-known local businessman and plumber, has always felt a bit of a kinship with the Ogden Stockyards. After all, it's the place where he learned the value of hard work and how it pays dividends.
That day he made a promise to himself he would have that sparkly, fancy car and he has worked every day since then to have it. He got it and then some, but let's not digress.
By the time Bachman was in high school he was working for Monroe Pexton Distributing, selling restaurant supplies. His travels brought him to Stockman's Restaurant, a little diner-type place across the street from the Ogden Stockyards. "It kind of reminded me of a big chicken coop," Bachman said of the diner. "It was real popular with the cowboys and the Swift people," Bachman said. He ate there a few times and always liked what they served, but he was usually always in a hurry when he around there – trying to get his work done. He also delivered to a tiny restaurant in the basement of the Exchange Building, just over from the Stockyards. He was intrigued by the area. As he would drop off the supplies, he noticed the large number of animal pens filled with manure. "I was always looking for ways to make more cash and I got an idea," Bachman said.
Making Bank
He had a little 1953 Dodge pickup and he could come down, shovel out the manure and sell it. His father had used the manure for years and it was good stuff – it made his father's garden beautiful. He knew the guys at the Stockyards would be willing to let him take it because they had been generous with his dad about it years ago. Why not make a buck or two on it? So, that's what he started doing.
Of course, he kept his restaurant distributing job, but in his spare time he started shoveling manure and selling it for $20 per load. The money was quick and easy and so was the work. As he has thought about it over the years, he always wondered why he didn't charge them for cleaning out their pens. Oh well.
He was familiar with the area before he started working down there. He would visit the Stockyards with his grandpa – also a plumber. He was helping him out on a job one day and they went out to the Stockyard area and two men – probably Swift employees, were eating their lunches on two dead cows. Just sitting there, eating sack lunches on dead cows. "It was the funniest thing I had ever seen. Here I could hardly breathe because of the smell, and there they were eating their lunch in the middle of all that stench," Bachman said.
Speaking of stench – back to the manure
He was always amazed by the amount of manure there was and by the number of animals he would see every single day. It only took Bachman about 20 minutes to load his truck and then he would go drop it off. He could make several runs a day. "It wasn't bad money for a high school kid," Bachman said. "But it did stink quite a bit," he added. The dry manure not as bad as the wet manure. He did it for several years, from about 1964 well into the 1970s. He continued to do it after he was married with children. He usually went on Saturday and spent a bulk of his day scooping and hauling. The old corrals were in terrible disrepair – broken fences, old wood. He noticed in the late 60's and early 70's as things were winding down, that there were less and less cattle. But it was always interesting to him. He rarely got the new, wet manure but the light and fluffy stuff. It was easy to scoop and haul that way. He loved the cow manure best. He would sometimes get sheep manure, but it could also easily burn lawns if people used too much, so he didn't like to use it in excess. "It was hot," Bachman said of the sheep manure.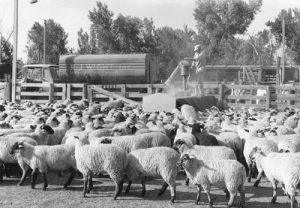 Bachman never touched any of the Swift corrals, not necessarily because they were off limits, but just because he didn't need to. There were enough Stockyard corrals to give him what needed – he figures about 100 corrals belonged to the Stockyards during that time.
Auction Action
Being around the restaurants and the corrals on Saturday, he was lured into the action of the auctions on Tuesdays as well. He loved to walk in and watch the auction life. The auctioneers rattled off their words quickly and Bachman would struggle to hear what they had to say but he loved it when he caught what they would say. He enjoyed watching the new cowboys come in and try to get the lay of the land. "They usually caught on real quick," Bachman said.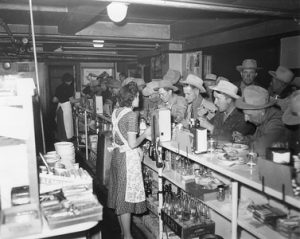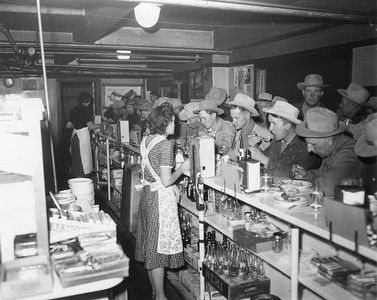 One of the best parts of the auctions and corrals was the little lady that cooked fresh hamburgers in a small trailer on the corner from the stockyards. "They were the best hamburgers I ever ate!" Bachman said with a smile and licking his lips. He would grab a fresh burger and then head to the auction for an afternoon of entertainment. She stayed on the corner selling her burgers to cowboys and auctioneers until just a few years ago. During his high school years there was also boxing, wrestling and ice skating at the Stockyards.
Every so often, but more regularly than not, there seemed to always be an animal that just didn't want to be sold or slaughtered and escaped! Cows, goats, sheep even horses would get loose from time to time and could be seen wandering around west Ogden close by the stockyards. Bachman would always laugh to himself. "Another got away," he always thought.
In the early years before the new viaduct was built, Swift employees had pretty much their own entrance off a ramp from the viaduct, so a lot of the people at the Stockyards didn't see much of the Swift employees unless they really wanted to, Bachman noticed.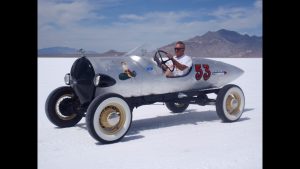 When Bachman became a successful plumber, he bought some property just up from the stockyards in West Ogden. He also owns storage sheds just across from his plumbing business, where he stores his re-made cars (he kept that promise to his mom about having his pick of fancy cars.) He has watched the area grow and change over the years with great interest. He saw it when it was a thriving, growing auction, exchange and factory area, to when it became quite dilapidated and junky. Now he has seen it turn into a more desirable place, but he doesn't necessarily like the way the city went about it. "They take business away from residents and then bring people in from outside the city. It doesn't seem right to me," Bachman said.
Memories and Changes
Bachman remembers clearly when the ice rink in the Stockyard area burned down. He was at his home in Pleasant View. "I thought my shop was on fire," Bachman explained. He hopped in his car to make sure all was well at his shop and as he got closer he could feel the flames coming from the ice rink. It was a sad day for him because the place was a special Ogden spot. "That fire was so hot, I could it at my shop," he said. "All that old wood, it burned so fast," he added. "It really was the hottest fire I have ever seen," he said.
Bachman continues to watch the Stockyard area. He likes the changes and they are appealing to the eye, but he hesitates to be fully invested in some of the decisions being made until all is said and done. He loves his town and wants the best for it always. He will always hold a special place in his heart for the Stockyards and the hub of action he lived in his youth and even as an adult. Now wandering cattle are being replaced with bikers and joggers. And while it isn't a bad thing, it is a big change. A change that will take some getting used to for many of those who have strong Stockyard memories.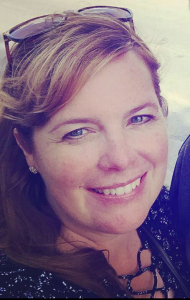 Rachel J. trotter
author
Rachel J. Trotter is a senior writer/editor at Evalogue.Life – Tell Your Story. She tells people's stories and shares hers to encourage others. She loves family storytelling. A graduate of Weber State University, she has had articles featured on LDSLiving.com and Mormon.org. She and her husband Mat have six children and live on the East Bench in Ogden, Utah.

tell your story
Evalogue.Life was hired to capture the history of the Ogden Union Stockyards and the old Swift meat packing plant, including oral history and other research. These vignettes were written by Evalogue.Life team members.